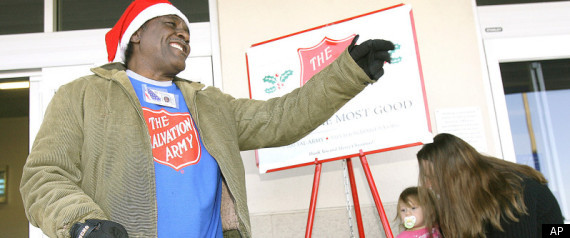 After dusting off their traditional red aprons and donation pots, Salvation Army bell ringers will modernize their getup this giving season with a digital donation device.
The humanitarian aid charity, which brings in $2 billion in revenue each year, will enable shoppers and passersby to give money to the pot, even if they don't have cash on hand,
The New York Times
reports.
Sprint Nextel has donated Android smartphones equipped with
Square's credit card reader
for donation-collectors to carry, which allows donors to swipe their card on the spot.
"A lot of people just don't carry cash any more," Maj. George Hood, the Salvation Army's spokesman, told The New York Times. "We're basically trying to make sure we're keeping up with our donors and embrace the new technologies they're embracing."
The charity will employ the mobile-giving option at 10 locations in Dallas, San Francisco, Chicago and New York, according to the
charity's blog.
Square charges a
2.75 percent fee
for every swipe.
PCMag.com
gave Square a "very good" rating and noted that "the experience is top-notch--for buyers and sellers alike."
In addition to offering contributors a hassle-free donation option, Square also amps up security, according to the Salvation Army blog. The money is deposited directly into the charity's account and means cash money on hand for thieves to steal.
Some Salvation Army posts that don't offer the mobile donating option are, for the first time, pairing bell ringers with guards.
"We'd like to say we didn't have to do it." Merrilu Bennett of the Salvation Army
told NBC-2.com.
"It's something that no matter what the cost to us - even though it's something we hadn't planned for - it's worth every penny that we have to pay."